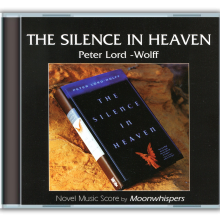 release date:
January 19, 1999
share:
"I have always found inspiration in the power of music. Music is ever present when I'm writing, showering me with the mood of the scene I'm working to create. With this CD we have reversed the process and let the words inspire the music. How well we have succeeded can only be determined by the listener. For that purpose, I recommend candlelight, headphones and a few chapters from The Silence in Heaven." -- PETER LORD-WOLFF
Silence In Heaven Musical Soundtrack
01 The Fallen
02 Somer's Island
03 End of Time
04 Merciful
05 Alone Again
06 Cliffs of Alvair
07 Fanny's Lure
08 Reunion
09 Train to Ascona
10 Clash of Wings
11 News Report
12 Last Flight
13 Hope
The music on this CD was inspired by the novel "Silence In Heaven" which is the first in a trilogy written by Peter Lord-Wolff, published by Tom Doherety Associates. Critics and readers world-wide are praising Lord-Wolff's debut novel. The epic tale chronicles the Earthly existence of the fallen angel Tashum and his mythic quest to solve a mystery in Heaven from a place on Earth. All songs (c) 1999 Moonwhispers Productions except "Clash of Wings"
Executive Producer: Peter Lord-Wolff Producers: Christoper Costanza, Steve Sippel Composers: Costanza, Sippel, Lord-Wolff Lyricists: Elizabeth Winick (End of Time), Jody Hopkins (Fanny's Lure) Keyboards & Percussion: Christoper Costanza Stringed Instruments: Steve Sippel Vocalists: Elizabeth Winick, Jody Hopkins, Karma Rodriquez, Patrice Dougherty Dialog Voices: Count Stephano Cacace, Hali Jones, Bob Morgan, Kemper York Recorded at Moonwhispers Studio, Pacific Grove, CA.